QUNO speaks at side event to UN debate on Peace and Security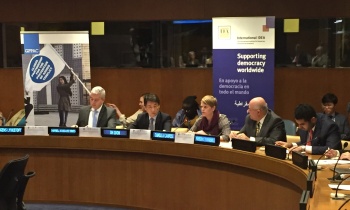 In May the UN held a High-Level Thematic Debate on Peace and Security. QUNO representative Camilla Campisi participated as a panel speaker in a side event to the debate organised by the Global Partnership for the Prevention of Armed Conflict (GPPAC) and International IDEA. The event focused on how enhanced cooperation with civil society and regional organisations can help the UN fulfill its purpose on peace and security.
QUNO shared findings and recommendations from the report co-authored with GPPAC last year on civil society engagement with the UN's Peacebuilding Architecture (PBA). QUNO stressed how this is a significant moment for the UN to focus on peacebuilding and the prevention of violent conflict, particularly given the recent joint Security Council and General Assembly resolutions on the PBA, and how civil society must be a part of this work. The UN's Peacebuilding Commission must improve its transparency to be more accessible and create strategic partnerships where civil society can be a part of the full process. Civil society should also contribute to conflict analyses carried out by the UN, which would provide a broader understanding of the local context and what types of peacebuilding approaches are needed. 
Related Links
Related Areas of Work