Research paper: Access to seeds: lessons from the access to medicines debate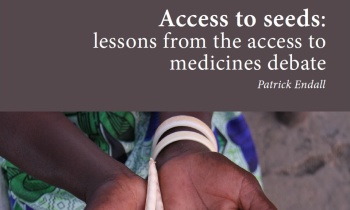 This new research paper considers what lessons the access to medicines debate provides for those concerned with protecting farmers' access to seeds. Taking the Doha Declaration on TRIPS and Public Health as its point of departure, this paper explores implications for interested parties at the international and national levels, as well as for multilateral institutions themselves.
Key messages include: 
1) The importance of public opinion and pragmatic coalition-building in raising the political capital to deal with sensitive negotiating topics;
2) The need for national governments to use TRIPS flexibilities in the same way that many already have for safeguarding access to medicines;
3) The urgent need for sustained, productive collaboration between relevant multilateral institutions to clarify the governance structure for plant genetic resources. By doing so they can help ensure farmers' continued freedom to experiment with, store, exchange and re-use seed - essential practices for maintaining biodiversity and achieving food security.
The paper, prepared by QUNO Programme Assistant Patrick Endall (Food & Sustainability, Climate Change) is available here, or by clicking on the link below.
All QUNO work is published under a Creative Commons license.
Related Files
Related Areas of Work