Expert Consultation on the Role of Government in Supporting Small-Scale Farmers and Agricultural Biodiversity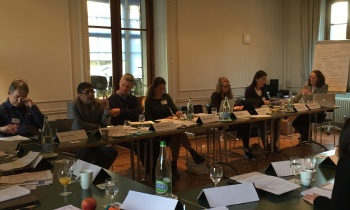 On November 6-8, 2016, the QUNO Food and Sustainability Programme hosted an expert consultation on the role of the public sector in supporting small-scale farmers and agricultural biodiversity at Chateau de Bossey, just outside of Geneva. 15 participants from around the world and representing a variety of professional backgrounds came together to discuss how to best help governments determine their roles in ensuring food security and to develop tools for them to create national food policies with small-scale farmers and agricultural biodiversity at their core.
While this consultation was only the beginning of a process with the long-term objective of achieving more just and sustainable food systems, the below documents were produced in preparation for the meeting as well as a result of the discussion held throughout. 
Related Links