New Report: Small-scale farmer innovation systems - a review of the literature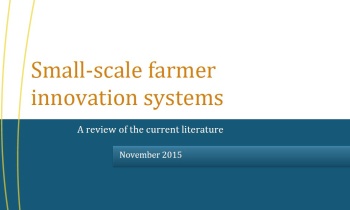 Small-scale farmer innovation systems have remained an abstract and elusive concept - this document seeks clarification by presenting a review of the academic literature on the subject.
In it, we call for further evidence-based research documenting small-scale farmers' contributions to food security, livelihood improvement and agro-ecosystem resilience. Through this, we hope small-scale farmers may become more visible in policymaking and more supported within national innovation strategies.
Read the full report below:
Related Files
Related Areas of Work