"Rebuilding Iraq in the Nineveh Plain" - A Briefing with Jim and Deb Fine of Mennonites Central Committee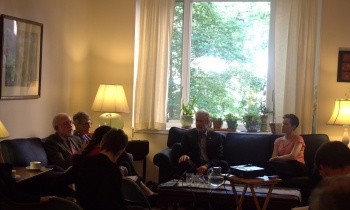 Together with the Mennonite Central Committee, QUNO hosted a briefing at Quaker House from Deborah and Jim Fine, both of whom recently returned from four years of service with the Mennonite Central Committee in Iraq. Based in Erbil, in the Kurdish Region, they administered MCC's relief, development, and peacebuilding work with Iraqi partner organizations throughout the country. In the last three months, their relief work and association with the Chaldean Catholic Church provided them with first-hand experience of the consequences of the fall of Mosul and minority-inhabited towns and villages in the Nineveh Plain. 
In a stimulating and interactive conversation, an array of different approaches were discussed by a diverse range of participants. Jim and Deborah Fine both urged policy makers to pursue approaches that focused on peaceful change by peaceful means, recognising that no military solution could put an end to the current crisis.
Related Links
Related Areas of Work