QUNO hosts WTO working session on agricultural trade and food security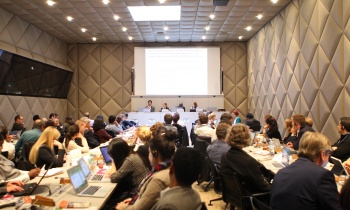 QUNO organized a working session at the WTO Public Forum, to address the forum theme of "Why Trade Matters to Everyone." QUNO posed the question "are the benefits of trade sufficiently inclusive?" in consideration of food security. In addition the sub-themes of trade and employment and trade in Africa were addressed by contextual presentations by panelists.
Moderated by Susan H. Bragdon, QUNO's Representative for Food & Sustainability, the panel consisted of Jennifer Clapp, Professor & Canada Research Chair in Global Food Security and Sustainability at University of Waterloo, Jerome Bunyi, the Agricultural Attaché to the Philippine Permanent Mission to the WTO and Morrison Rwakakamba CEO if the Ugandan farmers` association, Agency for Transformation .
Jennifer Clapp presented findings from her paper, "Trade Liberalization and Food Security: Examining the Linkages" addressing the underlying narrative of trade liberalization and its relationship to food security. Jerome Bunyi gave context to the paper by providing an account of,  the situation of the Philippines and trade liberalization from the founding of the WTO until the present. Morrison Rwakakamba brought the perspective of small-scale farmers to the fore in sharing his experience in Uganda.
The session was well received by a highly engaged group of more than 80 attendees and included perspectives and questions from a number of different stakeholder groups. An audio recording of the working session can be found here.
Related Areas of Work