QUNO hosts agriculture and food panel at the WTO Public Forum 2013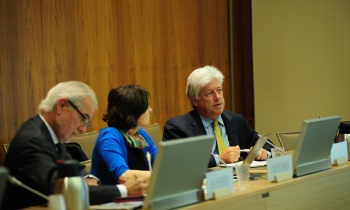 QUNO hosted a panel discussion at the WTO Public Forum 2013 on "Exploring New Frameworks for Trade and Investment in Agriculture". Speaking on the panel were Caroline Dommen, QUNO Representative for Global Economic Issues, Hans Herren, recipient of The Right Livelihood Award 2013 and Mark Halle, from the International Institute for Sustainable Development (IISD).
During this event, panellists and members of the audience considered environmental and social impacts of the current agricultural system. This led to discussion about what considerations are necessary for decision makers to take on board, in order to ensure an agricultural system that responds to the needs of the world today.
You can listen to an audio recording of the session here.
Related Areas of Work