Statement at the High Level Political Forum in New York in July 2017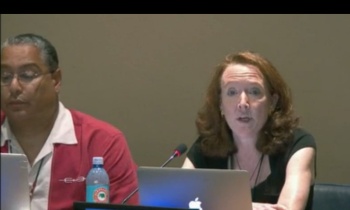 From July 10-19, 2017, the High Level Political Forum (HLPF) took place in New York. The HLPF is the United Nations central platform for follow-up and review of the 2030 Agenda for Sustainable Development and the Sustainable Development Goals (SDGs). The theme of this year's HLPF was 'Eradicating Poverty and Promoting Prosperity in a Changing World' and included the review of SDGs 1, 2, 3, 5, 9, 14, and 17.
At the HLPF session on the review of SDG 2 (Zero Hunger), Susan H. Bragdon, QUNO's Food & Sustainability Programme Representative, made a statement on behalf of the Food and Agriculture Cluster of the NGO Major Working Group. The latter is one of nine sectors of society working as main channels to facilitate broad participation in UN activities related to sustainable development. 
Related Links
Related Areas of Work