QUNO hosts discussion on strengthening the UN-AU partnership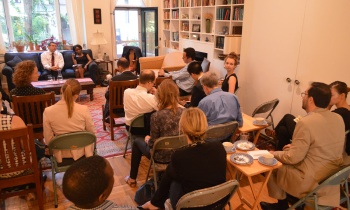 QUNO organized an informal discussion at Quaker House between African Union expert Dr. Cedric de Coning, civil society, UN staff and Member States. This meeting, during which Dr. de Coning provided his perspective on the state of the relationship between the UN and the African Union (AU), was a follow-up to a recent open debate in the Security Council on UN-AU cooperation for greater peace and security. The discussion was an opportunity for New York-based actors to gain insight into the inner workings of the AU and think of ways to enhance UN-AU cooperation from UN headquarters.
Improving the relationship between the UN and the AU has been a priority for the UN system over the past year, as a result of a recommendation from the recent UN report of the High-Level Independent Panel on Peace Operations (HIPPO) that calls for greater cooperation between these two institutions. As part of the Prevention of Violent Conflict program, QUNO has been honing into this recommendation, with a focus on building relationships between relevant UN actors engaged with the AU, including African Member States. This meeting was the first in a series of meetings that will take place in the informal setting of Quaker House and will bring UN, AU and African sub-regional organizations together to discuss issues of shared concern.
Related Areas of Work