"Making Peace in Their Own Words": Myanmar's Peace Process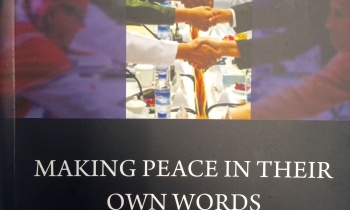 QUNO hosted a book launch and discussion at Quaker House in New York on "Making Peace in Their Own Words: People of Myanmar's Peace Process," a publication recently issued by the Centre for Peace and Conflict Studies. Member States, UN personnel and NGOs came together to discuss the challenges and successes of the peace process, which is nationally-led and has taken place between the government and ethnic armed groups. 
The book tells the story of men and women who, together, moved Myanmar's current peace process forward. While opposing each other for a long time, they have transformed themselves and those around them through the experience of sitting at the negotiation table. The testimonies highlighted in the book provide a window into personal experiences, and acknowledge the difficulty of transition periods. 
Related Links
Related Areas of Work