QUNO hosts side event on trade and food security at the Committee on World Food Security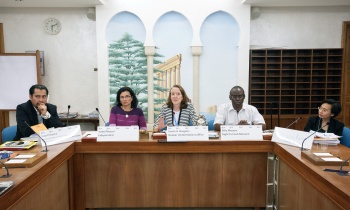 QUNO hosted a side event entitled "Harnessing Trade for Food Security" at the 41st meeting of Committee on Food Security. Susan H Bragdon, QUNO's Representative for Food & Sustainability, introduced the conceptual inter-linkages between trade and food security and the challenges the dominant paradigm of increasing trade liberalization may present to countries as they implement food security measures.
Aileen Kwa, the Coordinator for the Trade and Development Programme at the South Centre continued the panel presentation by explaining more specifically the evolution of the WTO Agreement on Agriculture and in particular the current impasse at the World Trade Organization.
Isabel Mazzei, present in her personal capacity, described the struggles for a WTO trade negotiator from a developing country when trying to reconcile desired national measures on food security with pressure to brought to bear to decrease policy flexibilities in the WTO.
Ivan Polanco, director of Asamblea General de la Asociación Nacional de Empresas Comercializadoras de Productores del Campo (ANEC), a peasant organization that represents small and medium producers of basic grains, also sat on the panel. Ivan described the experience of Mexico after NAFTA and in particular the marginalization of small-scale producers and an increasing dependence on food imports. 
Billy Mayaya, the Director of the Right to Food Network in Malawi, discussed his country's experience both with trade rules and with pressure from philanthropic sources to pursue economic development through engagement with the global market.  Both Ivan and Billy stressed the need for policy flexibility for countries to support small-scale farmers and the development and maintenance of agricultural biological diversity as a key means to ensure food security and resilience over time.
Related Areas of Work