QUNO and FCNL co-host lunch in New York bringing together climate scientists and faith community representatives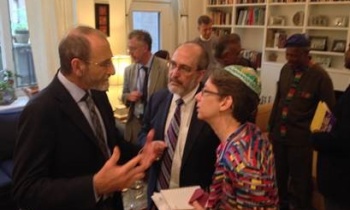 On 22 September, QUNO and the Friends Committee on National Legislation (FCNL) co-hosted a lunch with the Intergovernmental Panel on Climate Change (IPCC) and faith community representatives from the New York region.  Dr. Rajendra Pachauri, Chairman of the IPCC, alongside Dr. Chris Field, Co-Chair of the recent 5th Assessment Report Working Group II, and Dr. Renata Christ, Secretary of the IPCC, spoke with 30 representatives from the Christian, Muslim, Jewish, Buddhist, Hindu, Baha'í​ and Brahma Kumaris communities. 
Dr. Pachauri focused on the most recent climate science findings, the human impact of increasing temperatures, the root causes of anthropogenic climate change, and ways in which we can effectively decrease greenhouse gas emissions.  Following these discussions, guests explored the spiritual and moral challenge of anthropogenic climate change.  The lunch was an opportunity for grassroots faith communities to connect with international efforts and resources  in their work to ensure the most vulnerable communities now, and all our future generations, do not suffer as a consequence of our actions.  
Related Links
Related Areas of Work