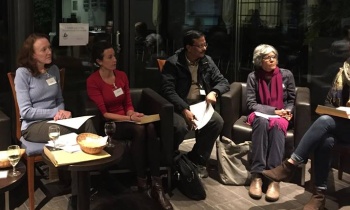 QUNO hosted an expert consultation on the role of governments in supporting small-scale farmers and agricultural biodiversity on November 6-8. In this excerpt from the latest Geneva Reporter newsletter, our Food & Sustainability Representative Susan Bragdon discusses the event.
Can you tell our readers about your upcoming event? Who will be participating? 
We are bringing together small-scale farmer organizations, economists and experts in public administration—people who don't commonly sit at the same table—to discuss the role of governments in supporting small-scale farmers, agricultural biological diversity and ensuring the long-term food security of their populations. We will have small-scale farmers from Bolivia, Cuba, Malaysia, Mongolia, Nepal, Peru, the Philippines, Senegal and Zimbabwe in attendance. We have an economist from India who has been exploring these issues around health and agriculture for a couple of decades. We will have experts in public administration, in food system policy and in public-private partnerships. This wonderful mix of disciplines and geographies should yield interesting insights and results. 
What are your expectations for the consultation? 
This consultation is an attempt to challenge the dominant narrative that orients us to markets. We're going to develop a strategy for raising awareness among national and international policy makers of the importance of small-scale farmers and agricultural biodiversity, and develop tools for helping governments determine what their roles should be in ensuring food security. Of course, every country is different and food security strategies must be tailored accordingly. This consultation is just the start. We need to keep this conversation going—asking critical questions and bringing together different perspectives—with the long term objective of achieving more just and sustainable food systems. 
We thank all the participants for joining us in this event and are looking forward to moving these discussions along. Next step will be the release of an agreed upon statement on the actions we think government should take in support of small-scale farmers and agricultural biodiversity.
Related Links
Related Areas of Work