QUNO participation at YMG 2017 in Warwick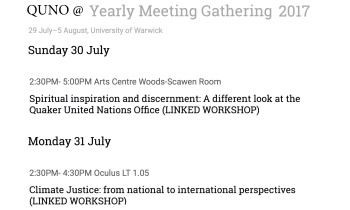 QUNO is excited to join Friends this coming week at Yearly Meeting Gathering (YMG) 2017 in Warwick. YMG is a week-long event held every three years by Quakers in Britain, that brings together Quakers, friends and families for an exciting week of community and movement-building. QUNO will be represented at YMG by Lindsey Fielder Cook, Andrew Tomlinson, Laurel Townhead and Jonathan Woolley, and will be participating in four workshops, as well as both nights of the Groups Fair. 
You can find us and add our events to your itinerary by searching for "Quaker United Nations Office" at quaker.org.uk/ym/timetable, or you can download the complete list of our #YMG2017 activities below.
Related Files
Related Areas of Work