QUNO's Food & Sustainability Releases Three New Publications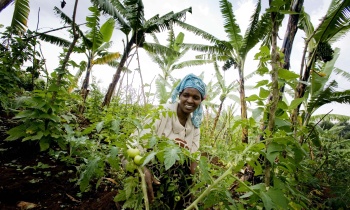 Programme Representative Susan H. Bragdon authored three new publications, which were published in March 2017 and are now available online as well as in hard copy.
The first one, a policy brief entitled Are Small-scale Farmers at the Table? Reflections on Small-scale Farmers' Participation in Global and National Decision-Making offers information on (1) small-scale farmer representation in international discussions related to food and nutrition security, innovation, climate change, human rights and the Sustainable Development Goals; on (2) the challenges in ensuring such representation; and on (3) the need for guidelines or lessons to help countries identify and ensure the full spectrum of small-scale farmer interests have an adequate and effective voice in negotiating processes and in project proposals. Finally, the brief concludes by making six recommendations for how multilateral institutions that host negotiations or dialogues can encourage and facilitate the participation of small-scale farmers.
The second paper, entitled The Foundations of Food Security – Ensuring Support to Small-scale Farmers Managing Agricultural Biodiversity, discusses the access and benefit-sharing (ABS) agreements established by the International Treaty on Plant Genetic Resources for Food and Agriculture, the Convention on Biological Diversity, or the Nagoya Protocol. In doing so, Susan H. Bragdon argues that ABS regimes are, and will continue to be, insufficient for generating the benefit necessary to support the innovative activities of small-scale farmers in conserving, managing, and actively developing the majority of the world's plant genetic resources for food and agriculture (PGRFA). After a thorough discussion on why small-scale farmers and PGRFA on-farm and in situ are critical to food and nutrition security and to the resilience and sustainability of agricultural systems, she goes on to maintain that a rights-based approach supported by governments nationally and internationally open broader possibilities of predictable, stable support. She concludes by noting that increased private sector interest in agriculture and food systems is reason for equally vibrant governments acting in the public interest.
In the third publication, entitled The Evolution of Rights and Responsibilities over Agricultural Biodiversity, Susan H. Bragdon explores the concerns driving relevant international instruments with the goal of increasing the understanding needed to achieve coherence and mutual support. She notes the central role inequity plays both amongst the treaties and instruments discussed in this paper as well as in the broader international legal landscape that includes human rights and trade agreements. To achieve the Sustainable Development Goals requires understanding of the broader context within which biological diversity related agreements are situated and the real or potential impacts resulting from the different legal regimes. The paper therefore concludes with suggestions on how to create a system that supports the critical role that agricultural biodiversity plays in achieving the Sustainable Development Goals. 
Related Links
Related Areas of Work