Students work with QUNO towards just economic systems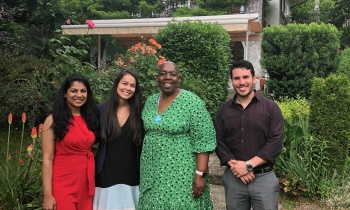 Young people have over the years participated in Quaker United Nations Office (QUNO) programmes in various ways.
QUNO's offices in Geneva and New York annually employ programme assistants for a year to work with its Representatives at the United Nations (UN). Programme assistants research and write about developments in QUNO's focus areas and assist with quiet diplomacy meetings at Quaker House from where QUNO works in close proximity to the UN headquarters in Geneva and New York.
QUNO Geneva also organises the annual Quaker United Nations Summer School (QUNSS), hosting young people from different countries at its office, Quaker House, for a two-week insight on working within an international organisation setting.
Apart from these two annual opportunities, QUNO hosts interns who get to know more about its work and participate in various activities. 
QUNO Geneva recently hosted master's degree students Bhawna Solanki and Julia Azevedo Sapucaia from the University of Bradford located in Bradford, England. They worked with QUNO programme associate Andrés Naranjo who leads the Sustainable and Just Economic Systems (SJES) programme.
While at QUNO from June to August this year, Solanki and Azevedo Sapucaia spent some of their time also at the Geneva-based offices of the Women's International League for Peace and Freedom. They attended meetings at the Palais des Nation, which is the UN headquarters in Geneva; offered presentations at QUNSS; and focused on research towards SJES outcomes.
Azevedo Sapucaia focused on economies of exploitation and enslavement, closely examining the ways in which current economic systems contribute to inequality and environmental degradation.
Solanki meanwhile explored the intersection of trade and the circular economy, with a special focus on plastic pollution and waste reduction. She aimed to highlight the importance of sustainable practices within global trade.
Azevedo Sapucaia, who is a Brazilian lawyer and mediator, has worked on alternative dispute resolution with Faleck & Associados, the first dispute resolution firm fully specialised in mediation and settlement advice in Brazil.
She said Quaker House was an "ideal setting for conducting my research".
"My research aims to uncover the interconnected systems of oppression that perpetuate inequalities. It provides me with a deeper understanding and connection to my practical experience within justice systems, allowing me to specialise at a profound level. By doing my internship with QUNO, I was able to connect with professionals who share a passion for this cause," said Azevedo Sapucaia. 
"I am determined to contribute to positive policy discussions and decision-making processes at an international level. This experience will shape me into a skilled professional capable of tackling significant global issues."
Solanki, who is from India, started her career with a grassroots non-governmental organisation, Door Step School in Mumbai, promoting education for underprivileged children. She is currently president of the University of Bradford's Sustainability Society, which leads initiatives that promote sustainable development and encourage environmentally conscious practices within the university community.
Solanki used her time at QUNO to learn about legal frameworks to curtail plastic pollution, an area where SJES has played a leading role.
"I used my time at QUNO to develop strong connections in the field of trade, development and peace-building, which will facilitate my career goals and passion for a just society," said Solanki.
QUNO Geneva director Nozizwe Madlala-Routledge said having Solanki and Azevedo Sapucaia at Quaker House has been "amazing".
"They have given QUNO an opportunity to build and strengthen new relationships. Friends (the term for Quakers) in Geneva have been most welcoming and supportive on this exciting journey. Our collaboration will continue online and we hope our paths will cross again, soon," she said.
Related Areas of Work