Young people gather for QUNO's Summer School in Geneva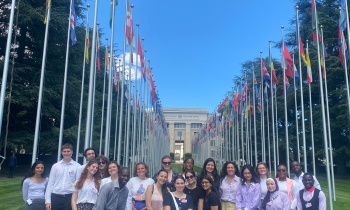 QUNO Geneva's annual Quaker UN Summer School (QUNSS) hosted 23 participants from various countries recently, connecting them to the United Nations eco-system.
Participants gathered from July 3 to 14 at Quaker House in Geneva. Their open-mindedness, curiosity, and willingness to learn meant this year's cohort was brimming with rich questions that inspired multiple in-depth discussions. This year was the first in-person QUNSS since Covid-19 started in early 2020. It was also one of the most diverse in QUNSS gatherings in its history, due in part to bursary support from Quakers in Britain and Switzerland.
Participants, aged 19 to 27, joined QUNO Geneva from 12 different countries: Bolivia, Cyprus, Ghana, Jordan, Kenya, South Africa, Switzerland, Togo, Uganda, the United Kingdom, the United States of America and Vietnam. They also came from diverse faith, cultural, and economic backgrounds. Over the programme's two weeks, participants were introduced to topics connected to QUNO's work, engaged in educational role-play exercises, spoke to experts on some of the world's most pressing issues, and visited multiple international organisations in person.
During the first week, participants were introduced to QUNO, the UN system, and how QUNO's work embodies Quaker values in multilateral spaces.
A visit to the Human Rights Council offered participants the opportunity to observe an interactive dialogue with the Special Rapporteur on the Environment and see firsthand the heart of international human rights governance. QUNSS focused on QUNO's programmes, including peace and disarmament, which opened an opportunity for participants to learn about negotiation and mediation skills.
Participants put these new skills to the test during a water sharing negotiation role-play before concluding the day with a human rights and arms control panel. In addition to visiting the home of the IPCC, on our climate change day, participants had a chance to again use their negotiation skills during a negotiation role-play focused on loss and damage from climate change.
One participant said they found the experience an "interesting, unique and Quakerly practice". The first week concluded with a discussion about human rights and migrants, including insightful panels on meaningful migrant participation and a workshop on health and migration. At the weekend during QUNSS, participants had the opportunity to see parts of Geneva's Old Town, visit the local beach, and host a communal multicultural barbeque.
The second week of QUNSS started with an introduction to sustainable and just economic systems, and plastic pollution.
A visit to the World Trade Organisation and an exercise on trade as a mechanism for peace gave participants hands-on opportunities to engage with this topic. The week continued with a visit to the International Red Cross Museum and the International Committee of the Red Cross where participants learned more about the history of international humanitarian work. Numerous experts joined QUNSS during the week on panels to discuss their work as young professionals, and to reflect on the importance of intersectionality. The week concluded with a formal UN tour, an informative Q&A session between participants and QUNO staff, and an activity on how to respond to contemporary challenges. Participants and staff then celebrated the summer school's conclusion with reflections about their experiences, what knowledge they gained, and a closing barbeque.
QUNO Geneva wishes participants all the best with their future endeavours and hope to keep contact with them too!
Related Areas of Work