QUNO NY hosts and attends events to celebrate the 5th anniversary of the Pathways to Peace Report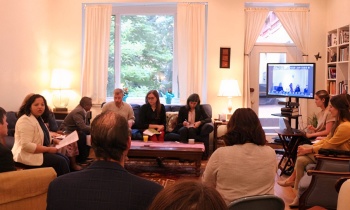 On June 12, civil society and UN colleagues gathered at Quaker House to reflect on the fifth anniversary of the 'Pathways for Peace: Inclusive Approaches to Preventing Violent Conflict' Report. The event was co-hosted by QUNO, the Global Partnership for the Prevention of Armed Conflict (GPPAC) and the Dag Hammarskjöld Foundation (DHF).
Released in 2018, Pathways for Peace was a flagship report by the United Nations and World Bank Group. The report highlighted the surge of violent conflict in recent years and provided recommendations for the international community to tackle this increase. The recommendations shifted the narrative from managing and responding to crises, to promoting preventative measures. 
The anniversary provided a unique opportunity to highlight next steps in strengthening the international architecture for prevention, as well as acknowledging how the geopolitical landscape has evolved since the release of the report. To do this, the UN's Peacebuilding Support Office and the World Bank called for a series of papers and consultations with Member States, civil society and other stakeholders. The 12 June discussion at Quaker House was one such opportunity. The conversation focused on the need for building data and evidence-based methods to impact work on prevention in ways that uplift grassroots actors and initiatives.
On 26 June, the International Peace Institute hosted a final discussion to commemorate the report's anniversary where QUNO representative, Kavita Desai, on behalf of QUNO, GPPAC and DHF, shared highlights from the Quaker House convening. Kavita highlighted key points from the June 12 breakfast sharing five opportunities that arose. One such opportunity is to ensure that data collection methods are informed by local civil society perspectives.
The full summary from QUNO's event can be found here.
Related Files
Related Areas of Work