QUNO NY Committee Member spotlight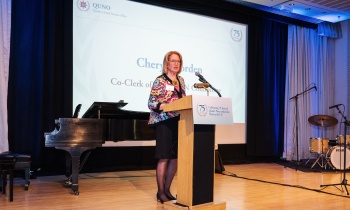 QUNO is governed by a Committee of Friends appointed by the Friends World Committee for Consultation (FWCC) and the American Friends Service Committee (AFSC). We're excited to spotlight the insights and experiences of a committee member and are delighted to share reflections from Cheryl Morden. Cheryl is a member of Adelphi Friends Meeting in Maryland. She has served as a Special Advisor to the President, Secretary, and Deputy Director of Partnership and Resource Mobilization for the International Fund for Agriculture and Development (IFAD). She has over 30 years of experience in international development policy analysis and advocacy and has managed policy advocacy initiatives and education mobilization campaigns on a variety of international development issues. This article was written by Sadhbh O'Driscoll, Programme Assistant 2022-2023, QUNO New York.
As a Programme Assistant (PA) with QUNO, one of the opportunities I have is to participate in meetings of the QUNO Committee that happen throughout the year. During these meetings I get to learn from and form bonds with each of the committee members. I get a deeper sense of how a Quaker organization is governed, and how Friends are represented throughout the world by the esteemed individuals who represent them on the QUNO NY committee. One such Committee member is Cheryl Morden whom I had the pleasure of interviewing to hear her thoughts and insights on faith and practice, serving on the Committee, and what she sees as the impact of Quakers on global peace efforts.
Throughout our conversation ran the theme of 'letting your life speak'. Cheryl spoke about Quaker history as a peace church, and how we, as the Religious Society of Friends, have 'centuries of experience in how to pursue peace as part of our faith". Grounded in the Spirit and seeing that of God in everyone, the role of Quakers at the UN has provided opportunities for creating safe spaces for honest exchange of opinion. This is something I have been able to witness myself at Quaker House during quiet diplomacy discussions.
I found it very inspiring as a young woman to hear about Cheryl's profound experience working with the United Nations in different roles and how this same experience has been guided by her commitment to Quaker values and testimonies through "letting her life speak". Cheryl sees the UN as being an important place for many Quakers who seek to align their careers with their faith, as she did herself. Cheryl dedicated 14 years of her life to the UN's International Fund for Agricultural Development focusing on issues related to agriculture and rural development, with expertise on development assistance and resource mobilization and gender and development. In retirement Cheryl sought to continue her work through QUNO's Committee which seeks to guide staff so that their work remains grounded in Quaker methods and approaches. 
Quaker witness at the UN has been carefully built and nurtured over the last 75 years. The individuals working at QUNO bring expertise and experience to utilize Quaker methods to promote peace, integrity and other testimonies at the UN and with Friends like Cheryl Morden there is no doubt we will be able to continue our work for another 75 years.
Related Areas of Work