Human Rights Council: Special Rappoerteur on Migrants Emphasises need for an International Monitoring Mechanism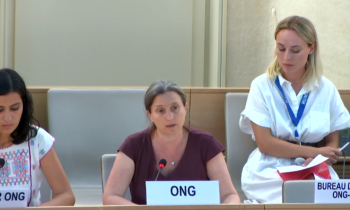 On Monday 26 June, QUNO's Laurel Townhead spoke in the in the Interactive Dialogue with the Special Rapporteur, calling on the Human Rights Council to respond dehumanisation of migrants leading to deaths and grave human rights violations in transit.
We believe that deaths and grave violations in transit require action form the HRC to listen, learn and lead, answering the call form over 220 civil society organisations and groups to establish an independent monitoring mechanism to investigate human rights violations in transit around the world and engage the political will needed to ensure change.
The Special Rapporteur echoed this call saying: it is essential that we set up an effective and independent mechanism and that we ensure the participation of civil society.
Related Links
Related Files
Related Areas of Work