Ireland Yearly Meeting 2023 – QUNO Geneva speaks on 'Preparing for Peace: How can we prepare for peace?'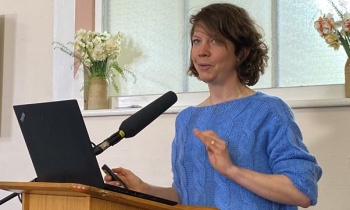 Florence Foster, Representative for Peace & Disarmament at QUNO Geneva, had the pleasure of joining Irish Friends in Tallaght for Ireland Yearly Meeting 2023 on 'Building Community Together', and was invited to speak on 'Preparing for Peace: How can we prepare for peace?' alongside Iain Atack.
Her intervention outlined how Quaker witness at the multilateral level prepares for peace – outlining how QUNO's history and methods are embedded in the hopes of and for peace. Importantly, QUNO's work finds its root in the belief that we must value each individual and seek to reach that spark of good, vision, or willingness to risk, that resides in each person. This can be found in the diverse ways in which QUNO approaches and shapes activities behind the scenes, building trust, reducing conflict and advancing the reconciling of difference by bringing together people from a range of backgrounds including diplomats, UN officials, staff of non-governmental organizations, academics, experts and practitioners.
Florence also gave an example of the work she leads as the Representative for Peace & Disarmament. She insisted that QUNO continues to resist all war and preparations for war and believes that the deliberate killing of others denies their humanity – balancing that with principles pragmatism that is often called for. Florence outlined how her work on arms control calls for engaging with a wide range of actors, including the economic drivers of arms exports, namely the businesses behind the bullets. The hope is of course to enhance leadership to think the world otherwise.
[her full intervention can be read below]
She was particularly touched by the interest Friends showed in QUNO's work, and the kindness with which she was received as a visitor into the Meeting. It was a pleasure for Florence to take part in the full range of conversations that took place – amongst those that stand out were the Special Interest Group follow-up on Quakers and a Peace Testimony, the public lecture on Hospitality & the Pilgrim: a Quaker's reflection on communion and community given by Harvey Gillman and Hugh O'Farrell–Walsh's presentation of The Friendly Podcasts, that also featured Irish Quakers who had worked with QUNO.
Related Files
Related Areas of Work