QUNO NY delivers statement on UN proposal for an Emergency Platform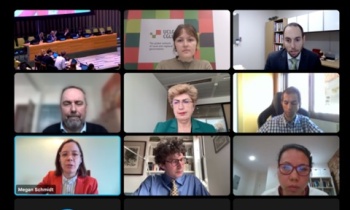 QUNO New York's UN Representative, Megan Schmidt, delivered a statement during the virtual multi-stakeholder consultation convened on 16 March by the Permanent Missions of Namibia and Germany. This is the second in a series of discussions that will inform the Summit of the Future in 2024. The Summit will be a "once-in-a-generation opportunity" to strengthen global efforts to tackle the pressing issues of our time and better position the UN to support the needs and rights of people in the face of future challenges.  
During this convening participants shared first impressions on the Secretary-General's proposal for an Emergency Platform. A policy brief published in early March outlined the need and purpose of an Emergency Platform, and the key principles that would guide it. Following the impacts of global crises like the 2008 financial crisis and the COVID-19 pandemic, the Secretary-General is calling for an Emergency Platform that can be activated in the face of future complex global shocks. This would not duplicate the work of other UN actors or bodies like the Security Council, but instead would act in the face of crises of such a magnitude that no single actor would be equipped to respond.
In her statement Megan highlighted key issues that are missing from the proposal for an Emergency Platform. Notably, she reminded colleagues of the critical need for such a Platform to contribute to peace as a global public good. "Peace must not be lost in the urgency of response," she said. The statement noted that people-centered and rights-based approaches must be at the heart of any response measure, with the foundational purpose of an Emergency Platform being the need to uphold and protect the rights of those affected. Megan also brought attention to the fact that the experiences of and impact on youth must not be forgotten, and that presently the policy brief does not consider the meaningful inclusion of young people in decision making.
The virtual consultation was then followed by a Member State discussion on the Emergency Platform. QUNO welcomed the opportunity to participate in the morning session as a means of informing the afternoon discussion amongst diplomats. Going forward, Member States will consider the proposal for an Emergency Platform, alongside other recommendations that the Secretary-General will provide to support the outcome of the Summit for the Future. We look forward to continuing to engage in and inform these processes.
Related Files
Related Areas of Work