Ending lethal disregard for people on the move: working through the UN for migration justice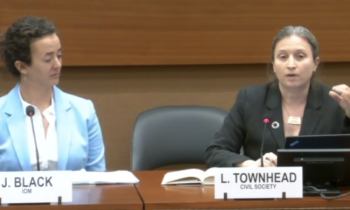 In line with our prioritisation of ending lethal disregard for people on the move as a core element of achieving migration justice, QUNO Geneva is engaging with both the UN human rights system and the UN migration governance architecture. 
Laurel Townhead, Human Rights and Refugees Representative, moderated the UN Network on Migration's GCM Talk on Missing Migrants and Humanitarian Assistance. This GCM Talk kickstarted the consultation process to develop "actionable recommendations on strengthening cooperation on missing migrants and providing humanitarian assistance to migrants in distress…with the aim of preventing loss of life in transit." These recommendations were requested by Member States in the Progress Declaration of the International Migration Review Forum , alongside a commitment to improve the treatment of migrants in transit and at borders with the primary objective of protecting migrants' right to life". (For more information on the outcomes of the International Migration Review Forum see our Briefing Paper.)
These actionable recommendations will be developed by a UN Network on Migration Workstream, which QUNO is pleased to be an active member of.  This Workstream also includes the UN Committee on Enforced Disappearances who are currently developing a General Comment on Enforced Disappearances in the context of migration. The GCM Talk included testimony and recommendations from Solomon Ezehy currently in an IOM Transit Centre in Niger. Solomon's recommendations included that those involved in decision-making on migration policy should see the daily realities and dangers experienced by migrants on dangerous routes. Centring the expertise and experience of migrants and their family members will be crucial to developing meaningful recommendations. The Workstream's workplan includes a series of consultations intended to engage with all relevant actors. 
Missing migrants were also the focus of a UN Human Rights Council side event in which Laurel set out examples of how the Council could meet our expectations for it to look, listen, learn, and lead in responding to deaths and disappearances of migrants and other human rights violations at borders (full intervention linked below).  This side event was organised by Mexico and co-sponsored by the International Committee of the Red Cross, the International Organisation for Migration, the Special Rapporteur on the human rights of migrants, the Office of the High Commissioner for Human Rights and QUNO and focussed on "Missing Migrants: preventing & addressing loss of life and the risk of going missing in migration routes".  Speakers highlighted not only the scale of loss of life and impact on family members but also the preventability of deaths in transit and the causal role of securitised and deterrence-based migration policies. QUNO also highlighted these issues when addressing the UN Human Rights Council after Volker Turk's first oral update as High Commissioner (full statement linked below). We called on him to be a strong advocate with migrants and for their human rights. 
The Human Rights and Refugees Programme remains committed to working collaboratively to use UN processes to help end lethal disregard for people on the move and the human rights violations that result from this.  
Related Files
Related Areas of Work