Intervention at the 29th Human Rights Advisory Committee on New Technologies for Climate Protection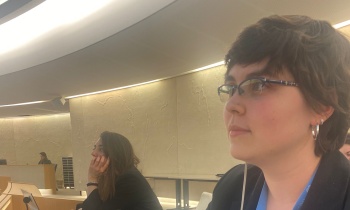 On the 20th February, as part of the 29th meeting of the Human Rights Advisory Committee in Geneva, a discussion was held about the findings of an emerging report on the "Impact of new technologies for climate protection on the enjoyment of human rights" prepared by Patrycja Sasnal, the Rapporteur of the drafting group. QUNO Programme, Assistant Alana M Carlson, speaking under the Friends World Committee for Consultation (FWCC) and Amnesty International, delivered an intervention. She expressed appreciation of the report's strong stance of the need for free, prior, and informed consent in the development of new technologies for climate protection (NTCPs), yet also serious concern that the report in its current form lacked sufficient analysis of the risk Carbon Dioxide Removal to scale poses to human rights, the rights of Indigenous Peoples, food insecurity and biodiversity loss. Nor did the report sufficiently address the 'novel' risks securitization, hegemony and the 'terminator' affect in relation to Solar Radiation Management. Neither geoengineering technologies reduce greenhouse gas emissions at source, at a time when rapid transformation of root causes is critical for a safer global temperature rise limit. The Advisory Committee was thus called upon to delay the report's release in order to conduct further research, hold more robust consultations with relevant stakeholders, and develop stronger human rights analysis.
To watch the QUNO Human Impacts of Climate Change Programme Assistant, Alana M Carlson, deliver the statement, click here.
To read the intervention, click here.
Related Files
Related Areas of Work