We hold in the Light those affected by the ongoing violence in Israel and Palestine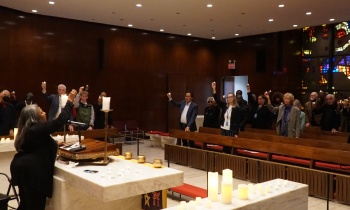 On the 19th of October, in the spirit of the building that hosted it, QUNO New York joined civil society partners as well as other faith-based organisations to hold an interfaith service for members of the UN community and our broader constituency at the Church Center for the United Nations (CCUN). Rev. Dionne P. Boissiere, Baptist Minister at CCUN, opened with a call to prayer, grounding participants in a moment of silence for all the victims of the conflict between Hamas and the Israeli Government. Following the Reverend, we heard prayers for peace from the representative of the Baha'i International Community, Janet Reed, a representative from the Won Buddhist Community, Rev. Doyean Park, Msgr. Robert D. Murphy, representative of the Mission of the Holy See to the UN, and Guruji Dileepkurmar Thankappan from the World Yoga Community. Alongside the prayers, the service featured a self-composed and performed music meditation by NY Gospel musician Priya Deberry, which was artfully interwoven throughout the prayers.
The service was attended in person by members of the United Nations community and the partners of the Church Center. An online space was provided for the broader community via a livestream video, which you can find on the Church Centre for the United Nations Facebook page.
QUNO NY's former director, Andrew Tomlinson, led those gathered in a moment of Quaker worship. He reminded the participants of the Quaker Peace Testimony, which is at the heart of Quaker practice. Both the Muslim Community, represented by Islamic Relief USA's May Hassoon, and the Jewish Community, represented by LabShul Sacred Arts Jewish Community's Naomi Less, used the moment of solidarity to evoke powerful prayers for peace, mourning the escalation of violence and holding space for all the suffering. 
To bring the ceremony to a close, staff of CCUN organisations and representatives from different faiths came together to light candles for all the victims of the conflict. This was followed by a statement from the patriarchs and heads of churches in Jerusalem, who called for an end to the violence and hatred.
QUNO has been committed to bridging the divide between Israelis and Palestinians and finding sustainable peace. Along with our colleagues at other civil society and faith-based organisations, we work to advocate that peace is not achieved by merely the absence of war – it is achieved by tackling the root causes of all conflicts. QUNO New York stands with other Quaker organisations in solidarity with everyone who has lost loved ones. We hold all victims of the conflict and violence in the Light. 
As representatives of Quakers at the UN, we are committed to live and work in the virtue of that life and power that takes away the occasion of all war. We join others in calling for a ceasefire and maintain that peace can only be achieved through peaceful means.
Photo credit: Guruji Dileepkurmar Thankappan
Related Areas of Work