Voices for Peace in Israel and Palestine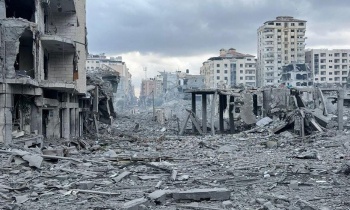 The international community has expressed grave concern regarding the escalation of violence in Palestine and Israel. On 9 October, the UN Secretary-General urged all diplomatic efforts to avoid further escalation, while emphasising that "only a negotiated peace that fulfils the legitimate national aspirations of Palestinians and Israelis, together with their security alike — the long-held vision of a two-State solution, in line with United Nations resolutions, international law and previous agreements — can bring long-term stability to the people of this land and the wider Middle East region."
Other UN officials, including the UN Special Coordinator for the Middle East Peace Process (UNSCO), are working to engage key actors in a process of de-escalation, while the UN Relief Agency for Palestine Refugees (UNRWA) is providing emergency assistance to civilians in the form of shelter, food distribution, and emergency healthcare. Meanwhile, the World Health Organisation (WHO), working with other UN agencies and partners, is continuing its efforts to establish a humanitarian corridor to deliver much-needed assistance to civilians.
Quakers have a long history in the region, and a deep commitment to working for lasting peace for Israelis and Palestinians. In New York, QUNO, in partnership with other civil society and faith-based organisations, works quietly to foster dialogue with partners from the region through a people-centred approach. In these efforts we partner closely with our colleagues from the American Friends Service Committee, including their staff based in Jerusalem, Ramallah, and Gaza. QUNO's work has included providing space to hear directly from those living under occupation by hosting a discussion with authors from the "Light in Gaza' anthology series. 
We know this crisis is a primary concern for many other Quaker agencies and we have been grateful to receive updates, analysis, and statements. The American Friends Service Committee (AFSC) has had active programming in Palestine that dates to 1948. We urge Friends to visit the AFSC website to access their recent public statement, the following explainer, and information about their appeal in support of the deteriorating humanitarian situation in Gaza. Quakers in Britain also lead work for peace in Israel and Palestine through their Ecumenical Accompaniment Teams and have also released a statement. Finally, we would like to draw Friends' attention to the recent statement by Friends Committee on National Legislation.
During the coming days, QUNO New York staff will continue to monitor the situation carefully. We will also be working with our partners to seek openings where the necessity for humanitarian access and the need for peaceful solutions that address root causes and are essential for building lasting peace can be lifted up.
Photo Credit: American Friends Service Committee (AFSC)
Photo caption: Photo shared by AFSC staff following a bombing in Gaza.
Related Areas of Work