QUNO NY calls for more effective youth inclusion in the General Assembly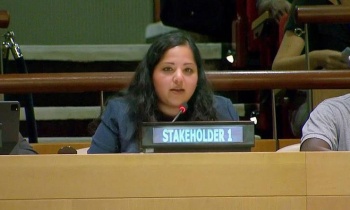 On 30 August, UN Member States and civil society representatives came together to discuss and identify ways to strengthen youth engagement in the General Assembly (GA). Kavita Desai, one of QUNO's Quaker UN Representatives, spoke on behalf of the Civil Society-UN Prevention Platform, which is co-facilitated by QUNO's New York office and the Global Partnership for the Prevention of Armed Conflict (GPPAC). The Platform works to support the UN's prevention agenda through strengthening coordination and information sharing between civil society organizations and the UN. The Platform was eager to participate in this meeting because youth inclusion is vital for sustainable peace and effective prevention.
The Civil Society-UN Prevention Platform presented four recommendations for UN and youth partnership in the GA, urging the UN to institutionalize its youth engagement; ensure transparency and accessibility; create a framework for youth to engage in decision making and follow-up; and ensure protection of young people who participate in the GA.
Read the Platform's full statement here.
Watch the meeting here. Ms. Desai's statement on behalf of The Platform begins at 2:06:00.
Related Files
Related Areas of Work