International Migration Review Forum: Consensus Adoption of Progress Declaration a Significant Step Forward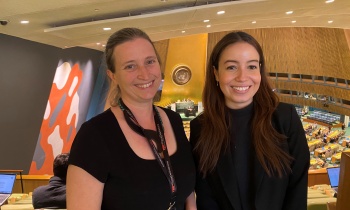 The first International Migration Review Forum (IMRF) took place in New York from May 16th to the 20th, gathering Member States, civil society representatives, migrants, and United Nations agencies. The IMRF was the first global opportunity to review the implementation of the Global Compact for Safe, Orderly, and Regular Migration (GCM) and discuss challenges since its adoption in 2018.  Following a multistakeholder hearing, the four-day Forum concluded with the adoption by consensus of the Progress Declaration. The endorsement by the General Assembly of the Progress Declaration on June 7th also by consensus indicates a welcome step in the maturing of migration multilateralism in the UN and grounded in human rights.
The IMRF has been a significant focus for the Human Rights and Refugees (HRR) Programme as we have sought to support progress on dismantling systemic racism in migration governance, advance meaningful migrant participation, prevent deaths and loss of life, and ensure human rights-based post-COVID migration governance, including in relation to border management in health crises.
In addition to a series of briefing papers on both process and positions, QUNO engaged with the development of the Progress Declaration, speaking at all four townhalls with the co-facilitators and engaging with diplomats in New York.
At the IMRF, Laurel Townhead Representative for the HRR programme, moderated the first thematic session of the multistakeholder hearing in which she remarked, "stakeholders are not just partners in implementation, crucially we are also critics, advocates, eyes, and ears open to the lived realities of the success and failures of migration governance for people and communities. If everything you hear today suggests unbounded progress or if everything you hear today is comfortable, then we are not having the right conversation. Because for too many people migration is not comfortable, it is not safe. And to ignore this would add to the dehumanization of migrants and would be a disservice to what we can do collectively if we ground our aims in the recognition of the inherent dignity and the equal and inalienable rights of all members of the human family".The recording of the multistakeholder session is available here and the link to summary report here.
QUNO co-sponsored two side events:
By Migrants, For Migrants: Advancing for Migrant's Meaningful Participation in IMRF and the GCM Processes, where Marisa Leon Gomez Sonet spoke:  Meaningful participation is not a simple tick-box exercise, nor is it inherently neutral. It is often said that migrants do not have a voice and that others can provide that voice. Migrants do have a voice, they have agency and resiliency, but are often excluded and marginalized. See the recording of the migrant participation side event.
Preparedness for the Next Pandemic: Towards a Resilient Global Architecture on Borders and Health, Laurel spoke: I hope this collective endeavor will succeed for governments and for migrants in all their diversity because a global border and health architecture that meets these [human rights based]criteria is not just the smart thing to do from governance, economic, predictability, perspective. It is also the right thing to do from a human perspective. See the recording of the side event here.
We were grateful for the opportunity to be in person again amongst so many people bringing their expertise and experience to bear on improving migration governance, not because of the economic benefits of migration for States but because of the inherent humanity of all migrants. We also want to acknowledge those who could not join us at the IMRF – for a multiplicity of reasons: because they could not access vaccines and documentation that would enable travel; because they do not think UN rooms are places where they are welcome or will be heard; because they are in a place of struggle and survival; because it would not be safe for them to engage; because, as the Secretary-General highlighted in his report, deterrence based migration policies lead to irreparable harm.
The IMRF was a steppingstone in delivering on the promise of the GCM, not an endpoint, and as we reflect and debrief we see clear next steps in our work towards migration justice.
Related Areas of Work