'What's missing (and needed) post-COP26?' - QUNO's event at the Second International Conference on Environmental Peacebuilding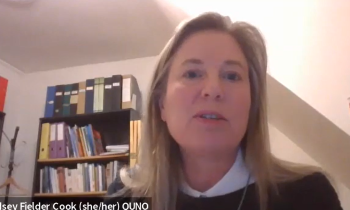 On February 2nd 2022, over 130 people joined the virtual roundtable event co-hosted by QUNO Geneva and the Quaker Council for European Affairs (QCEA) at the International Conference on Environmental Peacebuilding. The event addressed three elements at the intersection of challenges and opportunities in the post-COP26 context, namely: addressing the root causes of climate change, the role of human rights and avoiding securitisation. 
The event brought together a panel of four experts: David Boyd, the UN Special Rapporteur on Human Rights and the Environment, Nick Buxton, Future Labs coordinator at the Transnational Institute, Lindsey Fielder Cook, Representative for the Human Impacts of Climate Change at QUNO, and Alberto Saldamando, Legal Counsel on Climate Change and Human Rights at the Indigenous Environment Network. 
So, what's missing and why?
Setting the stage, Lindsey stated that "we are now at the implementation stage of our climate action".  While COP26 saw the completion of the Paris Agreement Implementation Rulebook, states must now focus on full implementation of their climate pledges. Lindsey warned that the COP26 decisions failed to address key drivers of climate change, namely, promises for rapid reduction of oil and gas extraction in addition to the commitment on coal, addressing unsustainable economic systems and agriculture, alongside the Paris Agreement commitment for developed countries to lead delivering in emissions reduction and fair climate finance. These omissions, she explained, reflected efforts by wealthy fossil fuel extraction economies to continue protecting, or 'ring fencing' lucrative activities. She outlined the COP26 'declarations' which focused on market and 'techno' solutions such as carbon capture and carbon markets have enabled continued and dangerous levels of oil and gas burning.   What is missing, she concluded, is the political will to urgently, fair and effectively transform root causes driving climate change.
In this light, speakers reflected on the impact of increasing securitised responses to climate change and natural resource management.  Nick drew attention to the rise of military and police budgets and the myriad of targets against environment and human rights defenders and civil society activists in response to government inaction on climate change. Similarly, Alberto highlighted the range of tactics used by private security companies in Standing Rock and the extensive threats to activists and lawyers in response to climate action. At its foundation, these instances demonstrate that what is prioritized and protected is certain interests over others, the continuation of the very activities (such as fossil fuel extraction) that drive climate change, and the harmful impacts of perceiving communities and climate issues as threats in and of themselves.  In doing so, securitised policies omit to address the root causes driving climate change and protection of those most at risk. 
What's needed?
At the heart of the discussion on the ways forward was the role of human rights-based approaches to climate action in order to address root causes, avoid securitised policies and ensure urgent, fair, inclusive, accountable and equitable responses to climate change and natural resource management. As the UN Special Rapporteur on human rights and the environment highlighted: 'Bringing a human rights lens to this [climate] crisis is critically important and I think the best chance we have at actually achieving rapid, systemic and transformative changes.' Reflecting on the recent UN resolution on the right to clean, healthy and sustainable environment, he emphasized that this is now a blueprint for action to reduce emissions, end deforestation, and scale up commitments to loss and damage for climate vulnerable nations, small island states and developing countries.
Participants and speakers reflected on numerous points of action such as increased accountability mechanisms for the private sector and for states, new legal frameworks on corporate due diligence* and to challenge militarized and securitised spending and tactics. 
As the event drew to an end, commitments to human rights-based approaches highlighted the effective and sustainable way in which future action on climate change and natural resource management can fairly and justly address the root causes of climate change. 
*For instance, see France's Corporate Duty of Vigilance Law in 2017 and the EU Mandatory Human Rights Due Diligence Directive.
Should you wish to continue the conversation, please get in touch with QUNO on quno@quno.ch  and explore the additional resources below.
To watch the full event click here: https://www.youtube.com/watch?v=MrFa3e2CpcM&list=UUzvdYmhEI3YH966xvzF2Qc...  
Resources and recent QUNO publications:
COP26 Two Steps forward and One Step Back
Recent blog on COP26 - what next? By Nick Buxton at the Transnational Institute
QUNO  A Government's Official Toolkit - 2021 edition
The case for conflict-sensitive and human rights approaches to business activities
The Peacebuilding Implications of Energy Transitions to a Carbon-Neutral Future
More information on the Environmental Peacebuilding Conference 
Information on the Geneva Peacebuilding Platform's work on Environment, Climate, Conflict and Peace 
Related Areas of Work