QUNO Stresses the Importance of Adopting Package-less and Reuse Systems to Address Plastics Pollution in a Workshop Organised by the WTO and UNCTAD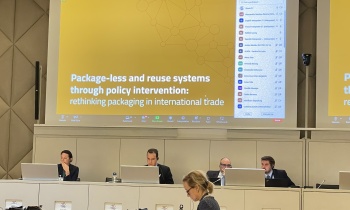 QUNO participated in a workshop on sustainable and effective substitutes and alternatives for plastics, co-organized by the World Trade Organization (WTO) and the United Nations Conference on Trade and Development (UNCTAD). The workshop offered a scoping, stocktaking, and trade facilitation exercise of prospective plastics substitutes and alternatives, and provided participants with a strong technical foundation for more in-depth talks on sustainable, tradable, and effective plastics substitutes and alternatives. Its outcomes are envisaged to support ongoing negotiations on an internationally legally binding instrument to end plastic pollution, taking place under the auspices of the United Nations Environment Program.
As part of this event, QUNO presented the results of our most recent report, which contains an analysis of the state of play of the packaging-free retail sector in Latin America, examining policy barriers (in the role of services) affecting the wider uptake of the packaging-free retail model in the region. Our presentation stressed the importance of nurturing, and facilitating (from a regulatory and financial perspective) the scaling-up of traditional reuse and package-less delivery systems, particularly in the packaging and food sectors, as a viable mechanism to address the scourge of plastic pollution. 
Related Areas of Work