QUNO NY Committee Member Spotlight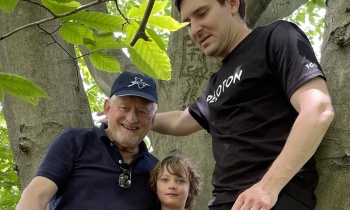 QUNO is governed by a Committee of Friends appointed by the American Friends Service Committee (AFSC) and Friends World Committee for Consultation (FWCC). We're excited to spotlight the insights and experiences of a committee member and are delighted to share reflections from QUNC member, Dick Erstad. Dick has had a long history of work within Quaker organizations. He served as the AFSC Regional Director for Latin America and Caribbean from 1978 – 2005 and as the Quaker International Affairs Representative for the Latin America and Caribbean region from 2006 to 2008. As a QIAR he supported regional peace and conflict prevention programs, including Cuba-US rapprochement and Cuban civil society growth. This article was written by Sigrid Corry, Programme Assistant 2022-2023, QUNO New York.  
As a Programme Assistant (PA) at QUNO I participate in meetings of the QUNO Committee that take place throughout the year. These meetings are a chance to learn more about how a Quaker organization is governed and get to know members involved in Quaker work across the world. One such member is Dick Erstad, whom I had the pleasure of interviewing to hear about his experience of being on the Committee, his thoughts and insights on Quaker faith and practice, and the role of Quakers in efforts for peace and justice in a global context.
Reflecting on what being on the New York Quaker UN Committee means to him, Dick spoke about how, after retiring, this was an opportunity to continue to learn, engage with QUNO and the work of the UN and share knowledge from his years of doing Quaker work in different settings.
I asked Dick to share more with me on the role of Quakerism in his life and work. Dick has been deeply engaged with Quaker work for peace, justice, inclusion and equity in the world for more than 40 years, mainly with the American Friends Service Committee (AFSC). This journey started when he arrived in Philadelphia in 1970 for graduate school and came to know AFSC. "I was drawn to the core values of the AFSC and the Quaker-rooted way of working, with integrity, seeing that of God in all persons, a humble, continuous seeking of the truth." Quaker principles have since become guiding for him in a personal way, "I try to live those values still in everything I do."
What also emerged in the interview was how Quaker working methods guide and inform organizational action, drawing from his experience with the American Friends Service Committee (AFSC) and QUNO. The Quaker-grounded way of working allows for establishing trust, which is critical for building networks and alliances across sectors, convening, and supporting systemic change. Dick spoke of how the work of Quaker organizations like AFSC and QUNO to convene people is done "humbly," ensuring that voices of partners are the ones heard. He emphasized the crucial role of creating spaces of listening at the UN level, noting how "QUNO offices are very clear about lifting the voices of the people and communities most affected by violence and marginalization". At the UN, such wisdom and experience is not always present or heard where it is most needed and "QUNO brings that to the table."
Dick's commitment to thinking about the relationship between principles and action stands out to me as particularly crucial as we continue to think about ways of enacting change in the world. How we convene and how we center voices of people and communities most affected by violence to build intersectional spaces of action and understanding continue to be urgent questions for the creation of a more peaceful and just world, be that at the local or global level.
Related Areas of Work