QUNO New York Joins Panel on Strengthening the UN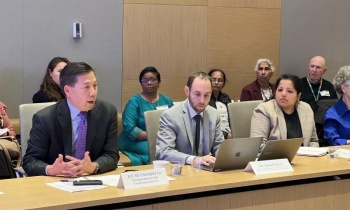 QUNO New York UN Representative Kavita Desai joined a panel on November 3rd hosted by the Baha'i International Community (BIC) and the Coalition for the United Nations We Need, entitled "Tipping the Scales: Proposals for UN Reform in a Time of Need."
The discussion included reflections on proposals for reform, as well as an exploration on how such proposals can be implemented—getting from ideation to actualization, in the words of one attendee.
"Think outside the current construct of the UN," Ambassador Christopher Lu, one of the event's featured respondents stated, urging attendees to be audacious in their consultations. "If you were designing it all from scratch, what would you do?"
QUNO emphasized the need for an inclusive and collaborative relationship between the UN and civil society. "One of the central parts of the Our Common Agenda report is the idea of a renewed social contract that is anchored in trust, inclusion, protection, participation, and measuring and valuing what matters to people and planet," said Kavita Desai.
An unattributed summary of the proceedings can be found here.
Related Areas of Work