QUNO Offices connect with the Friends World Committee for Consultation Section of the Americas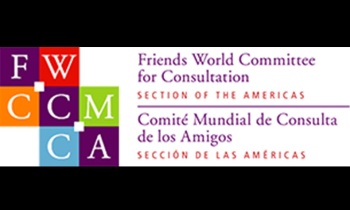 Friends World Committee for Consultation Section of the Americas (FWCC SOA) recently invited QUNO to a meeting with their Regional Coordinators to talk about our work and how Friends around the world can engage with us. It was a small meeting with vast reach, with Regional Coordinators from across the Americas, including the United States, El Salvador and Mexico in attendance, each connected to a Yearly Meeting. It was a great opportunity for QUNO to amplify information about our programs, share the news of our new directors, and talk about how Friends around the world, whose interests we represent at the UN, can engage with our work.  
Programme Assistant Cecile Adrian and QUNO NY Committee Member Diane Keefe presented QUNO's work in New York through the peacebuilding and prevention programs. Diane spoke about QUNO's impact in past UN processes, including the 2016 twin resolutions on Peacebuilding and Sustaining Peace, which marked a transformative shift in how the UN conceptualized peacebuilding. Cecile highlighted how QUNO New York's Quaker working methods of trust building and quiet diplomacy have shifted online.
Mica Estrada, a member of QUNO Geneva's Committee, presented about the Geneva Office. She spoke about Geneva's Human Impacts of Climate Change program, led by Lindsey Fielder Cook, highlighting their collaboration with Canadian Friends on issues around Indigenous People's rights and environmental decisions made at the UN. She noted that QUNO is the only faith-based organization that is an active, accredited observer at the Intergovernmental Panel on Climate Change (IPCC).  
Friends in attendance were interested in how to support and engage with QUNO, as well as the role of Friends on the steering committees of each office. A rich conversation followed on pathways for engagement including the Programme Assistant position for young Friends, inviting QUNO to present about our work to other groups of Friends and the roles that Diane and Mica play on the QUNO Committees. Mica shared how she along with other FWCC representatives bring an internationalist and decolonial perspective to steering QUNO Geneva's work and Diane rejoiced in the new phases for both offices with the onboarding of Nozizwe Madlala-Routledge and Sarah Clarke as our new directors, for Geneva and New York respectively.
Related Areas of Work