Human Rights Council 48th Session Starts Online with High Commissioner for Human Rights' Highlighting Environmental Crises, Migration and Displacement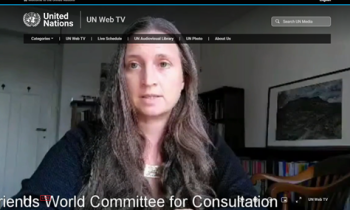 QUNO Geneva is (virtually) attending the 48th session of the Human Rights Council with particular attention to the human rights of migrants, Indigenous Peoples, the death penalty, and the human rights impact of the climate crisis.
The UN High Commissioner for Human Rights, Michelle Bachelet, focused her update to the Human Rights Council at the opening of its 48th Session on environmental threats saying that as these intensify "they will constitute the single greatest challenge to human rights in our era".  We welcome the High Commissioner's attention to these threats and her call for leadership from the Human Rights Council. She further stated, "Along with adopting rights-based approaches to internal displacement, I urge all countries to work together to expand pathways for safe and regular migration for people who are compelled to leave their countries in the context of environmental degradation."
In our video statement in the debate following this update, we drew the concerns the High Commissioner raised about the treatment of migrants including those who are displaced as a result of human rights violations that were discussed at this session. Five years ago, in the New York Declaration for Refugees and Migrants, States said :
"We are determined to save lives. Our challenge is above all moral and humanitarian."
We called on States to use the Human Rights Council to strengthen the commitment to the right to seek asylum, international protection, and the principle of non-refoulment in relevant resolutions. We finished by asking States to consider what monitoring and accountability activities are needed to demonstrate and deliver on that stated determination to save lives.
Watch the video statement by QUNO's Geneva Human Rights and Refugees Program Representative, Laurel Townhead, HERE. 
Related Files
Related Areas of Work