Event of Note
Quaker United Nations Office Geneva names new Director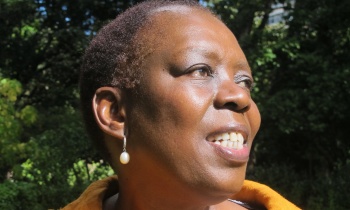 Following an international search process, the Quaker UN Office is delighted to announce that Nozizwe Madlala-Routledge has been selected as the incoming Director of QUNO Geneva. Nozizwe, a South African national, is a member of the Quaker Community in the Western Cape Meeting. She has broad experience in her home country and distinguished and influential service in government, civil society and advocacy. Nozizwe has an honorary Doctorate of Law from Haverford College, diplomas in microbiology and adult education, a degree in social science and an honours degree in philosophy.
Colm Ó Cuanacháin, clerk of the search committee says: "Nozizwe comes to QUNO Geneva as the first African director of any Quaker international agency. QUNO has always strived for all voices to be heard at the United Nations and in the quiet diplomacy we practice; the issues we work on (climate change, human rights – especially those of migrants, sustaining peace, arms control, just and sustainable economic systems) are particularly important right now to the African continent and to the Global South in general."
Nozizwe Madlala-Routledge, the incoming Director says: "I am grateful and privileged to take over executive leadership of an accomplished organization and to carry forward the Quaker tradition of quiet diplomacy at the United Nations. I look forward to working with the Quaker UN Committee, the experienced team at the QUNO Geneva office and listening to and interacting with the worldwide Quaker community. I am proud to be taking over from Jonathan Woolley and previous Directors who have built up such a significant track record. I take over at a time of change in the world, new and intersecting global challenges of COVID 19, global warming, deepening economic inequality and polarization within and between countries. I also come at a time of change of leadership at the QUNO New York Office and other Quaker institutions including FCNL, QCEA and FWCC. I look forward to working with the new leaders in responding to the new challenges and contributing a perspective from the Global South."
QUNO Geneva's governing Committee plans a careful handover from outgoing Director Jonathan Woolley, who will retire by year end 2021, to incoming Director Nozizwe Madlala-Routledge, whom we intend will be in post by November, once Swiss immigration procedures are complete.
Under Jonathan's stewardship QUNO Geneva strengthened and expanded its collegiate, interconnected team of experienced, committed Representatives and administrators, and the paid Programme Assistantships that support them. He introduced work on the human impacts of climate change that is now central to our endeavours, and reoriented work on global economic issues.
Holly Spencer, QUNO Geneva co-clerk says: Quakers are doing really important work at the United Nations. We are excited to be rising to the urgent challenges of geopolitical crises and changes under new leadership. We are grateful to Jonathan Woolley for his outstanding contribution to international policy and practice as the steward of Quaker engagement with UN decision making in Geneva for over ten years."
Related Areas of Work