QUNO Hosts Roundtable During 2021 Stockholm Forum on Peace and Development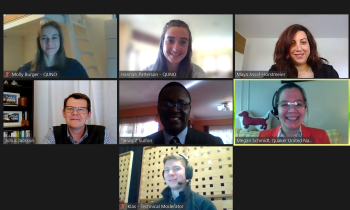 Each year, the Stockholm International Peace Research Institute (SIPRI) hosts the Stockholm Forum on Peace and Development, which seeks to promote opportunities for cross-cutting dialogue and learning between humanitarian, development and peacebuilding actors internationally. At this year's Forum, which focused on "Promoting Peace in the Age of Compound Risk", QUNO hosted the roundtable, The Time is Now: Developing & Implementing Multidimensional Crisis Measures for Peace.
Megan Schmidt, QUNO's UN Representative for the Peacebuilding Program, facilitated the roundtable which provided space for learning and discussion amongst colleagues from the peacebuilding, humanitarian and development communities. The conversation began with reflections from our discussants, Julius Jackson, who leads the Conflict and Peace Unit at FAO; Maya Assaf, Director of the Peacebuilding and Conflict Sensitivity Team at World Vision; and Takwa Zebulon, who is the Peace and Development Advisor in the UN Resident Coordinator's Office in Zimbabwe. Together, they brought perspectives and experience from their policy and program backgrounds, drawing on their expertise in the areas of humanitarian response, peacebuilding and development. The discussion provided a space for dialogue on how policy translates into practice and what opportunities need to be seized and challenges overcome to make crisis response more people-centered, sustainable and transformative. Panelists and participants also reflected on preparing for future multidimensional crises, including how learning from the ongoing impacts of the COVID-19 pandemic can positively influence policy and program development.
The roundtable built upon many key areas of learning gained through QUNO's ongoing research which supports the development of our new program priority area, Peace & Crisis. This program priority grew out of the recognition of the increasingly complex nature of crisis, the growth in humanitarian aid and the need to further articulate the peace impacts of short-term response in order to link this to longer-term efforts to foster peace, justice and inclusion. QUNO greatly appreciates the opportunity to participate in this year's Forum and looks forward to continuing to engage on these issues. Please watch the video here.
Related Areas of Work