QUNO NY Programme Assistants Present at Friends Biannual Meeting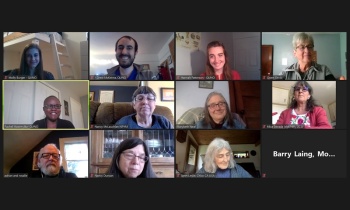 QUNO NY Programme Assistants (PAs), Molly Burger and Hannah Patterson, presented about QUNO to Quakers at the Friends World Committee for Consultation (FWCC) Section of the Americas Meeting. The biannual Meeting was held virtually this year due to COVID-19, but still drew together Quakers from North, Central, and South America and the Caribbean for worship, workshops, and activities. Molly and Hannah found this virtual space quite engaging in sharing the role of QUNO at the UN, as well as their experiences as Programme Assistants.
Quakers have been at the UN for 75 years now, and Molly and Hannah were excited to share the work of QUNO, the Quaker representation at the UN. They touched on QUNO's unique aspects, such as its Quaker working methods and the impact of convenings at Quaker House, where QUNO hosts small gatherings for quiet diplomacy in a comfortable setting, often over coffee or lunch. Together, these aspects, create a safe space suitable to the open and transformative conversations that QUNO works towards.
When sharing her own personal experience at QUNO, Molly talked about the work of the Civil Society – UN Prevention Platform, and her role in preparing for the virtual event "Strengthening Partnerships: Preventing Conflict Together," which was co-hosted by the Platform. She found this event insightful into how UN actors and local civil society can play to each other's strengths through the UN's convening power and local, first-hand expertise. Hannah discussed exploring the relationship between peace and crisis, which is a new program priority for the office. She touched on how her research on this area to support program development is especially interesting due to the changing nature of conflict and the need to assess and adjust how violent conflict is approached. After presenting, Molly and Hannah engaged with participants in a dynamic conversation about their experience, Quaker House, and QUNO's work. Participants brought their own expertise on related topics and keenly expressed their enthusiasm on the work of Quakers and QUNO at the UN.
Related Areas of Work