QUNO attends Trade and Environmental Sustainability Structured Discussions at the WTO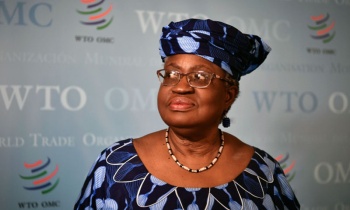 QUNO's Sustainable and Just Economic Systems programme has been closely involved in discussions on trade and environment between members at the World Trade Organisation (WTO). In this space, QUNO prioritises supporting members to work collaboratively on trade policies which support global environmental sustainability and ensure a sustainable and just future for all.
The beginning of March saw the first meeting of the newly launched Trade and Environmental Sustainability Structured Discussions take place at the WTO. These discussions are the first of their kind and look to complement the existing work of the long-established Committee on Trade and Environment. QUNO is one of a small number of civil society representatives invited to participate in the discussions, whose convenors – Canada and Costa Rica – are placing strong emphasis on the need for transparency in these initiatives.
The newly elected Director-General Ngozi Okonjo-Iweala welcomed the discussions as an opportunity for the WTO to deliver results for the future. Reflecting on the role of trade in achieving a healthy environment, DG Okonjo-Iweala placed emphasis on how "trade policies can help unlock the green investment and innovation needed to decarbonize our economies and create the jobs of the future."
The structured discussions allowed members to comment on their work linking trade and environment nationally and how environmental sustainability can be addressed in the space of the WTO. Looking towards the WTO's 12th Ministerial Conference, due to be held in the latter half of 2021, members also voiced their views on priority issues for discussion and delivery. QUNO welcomes this new energy for focusing on environmental sustainability at the WTO. In his statement to the committee, QUNO Representative Joachim Monkelbaan, speaking on behalf of QUNO, FES Geneva and WTI Advisors, placed strong emphasis on how "TESSD could fulfill the need for systemic and integrated approaches that are so crucial for addressing global environmental sustainability."
Related Areas of Work