Pandemics and Border Restrictions - Improving Responses Now and Building for Future Preparedness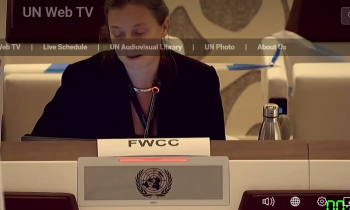 The Omicron variant has triggered a fresh round of border control measures and travel restrictions despite the World Health Organization's statement that
"Blanket travel bans will not prevent the international spread of Omicron, and they place a heavy burden on lives and livelihoods."
As this was unfolding, the International Organization for Migration (IOM)'s Council was marking the organization's 70th anniversary with a high-level segment on the impact of COVID-19 on borders, migration, and mobility: learning lessons and preparing for the future.
At the outset IOM's Director General said:
"We must generate a better understanding of to what extent, how, and when, travel restrictions contributed to effective management of COVID-19 and develop means to assess the relative value – and risk – of different measures and restrictions over the course of a health crisis,"
There was near-universal recognition of the disproportionate impact of COVID-19 on migrants and concern to mitigate this now and draw lessons for future pandemics. Measures States have taken to lessen the impact on migrants include regularization, access to health services, and maintaining mobility. Many spoke of the need to learn lessons from the evolution of this pandemic and measures to control it in order to improve practices now and ensure better preparedness, coherence, and coordination in any future pandemics. IOM's Director General concluded by saying that there is a need to talk seriously about developing a pre-established architecture for health security and borders. Standard common principles, he said, would provide States with a toolbox for future pandemics.
Less than a kilometer away at the World Health Assembly Special Session States were also agreeing that lessons needed to be learned from this pandemic and have launched the process to collectively develop a pandemic treaty or other instrument to improve preparedness and response. This decision includes:
Stressing that Member States should guide their efforts to develop such an instrument by the principle of solidarity with all people and countries, that should frame practical actions to deal with both causes and consequences of pandemics and other health emergencies.
Echoing this principle back in the IOM Council we encouraged steps to engage with the broadest possible range of migrants' diversity, expertise and experience in any action to support States in developing appropriate responses to border governance in this evolving pandemic and potential future pandemics. We called for any such guidance or frameworks to be:
evidence-based
cognisant of the impacts of vaccine inequality
in line with international obligations, including international refugee law and international human rights law
And for an aim to lower the human cost for migrants to be at the heart of responses now and in the future.
Related Files
Related Areas of Work