The QUNO Climate Change team during COP26: activities and reflections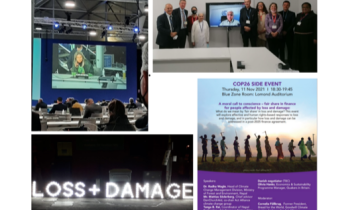 QUNO was present throughout the entire COP26 in Glasgow, focusing on climate justice concerns, and strengthening ambitious, effective and fair international climate efforts.  Please see 'read more' for an overview of QUNO work and links to presentations, publications and statements, and an analysis of the COP26, 'Two steps forward, one step back', by Representative for Climate Change, Lindsey Fielder Cook.
QUNO's intensive work at COP26 in Glasgow started many months ago and included five quiet diplomacy meetings with climate negotiators, extensive presentations to Quaker, inter-faith and other grassroots communities, publications to empower government policy makers, climate advocates, and citizens (also in French and Spanish), and support to sister Quaker organizations attending the COP.  Lindsey Fielder Cook, Representative for Climate Change, and Andres Naranjo, Programme Assistant for Climate Change and Sustainability, were present for the entire COP, including Lindsey (arriving early to participate in pre-COP UN meetings), and Joachim Monkelbaan, Representative for Sustainable and Just Economic Systems, for the first week. QUNO prioritizes climate justice efforts, including urgent and fair transformation of activities driving climate change, inclusion of human rights language and robust and fair guidelines to implement the Paris Agreement, sufficient finance for Loss and Damage, and social justice in linkages between trade and climate change. During the COP, Lindsey helped oversee an interfaith Talanoa Dialogue in which Paul Parker, Recording Clerk for Britain Yearly Meeting (BYM), spoke, with the ensuing statement presented to the UNFCCC Executive Secretariat.  Lindsey also spoke at the opening Event of the Geneva Peace Platform, at Glasgow Meeting House with BYM colleague Livvy Hanks, on a Chatham House event on peace, conflict and climate change, on human rights and climate change at the People's Summit, and with Andres' help coordinated a QUNO, QEW, FWCC, QPSW, and Act Alliance side event titled, A moral call to conscience – fair share in finance for people affected by loss and damage.  
The COP26 began chaotically with serious concerns over equitable access, including participation from poorer countries and observer access to negotiation rooms.  Thankfully, civil society voices on the streets of Glasgow rallied powerfully for climate justice, while efforts from the climate vulnerable and other committed countries, grave findings from the latest climate science, and some improvements in geo-political relations all helped to bring unexpected positive advancements to this international framework for action, while revealing clearly how much more needs to be done by those responsible, to healthily transform human activities driving climate change and related environmental crises.
Related Files
Related Areas of Work