"No-one will be safe until everyone is safe." QUNO welcomes Secretary General Guterres' new Policy Brief.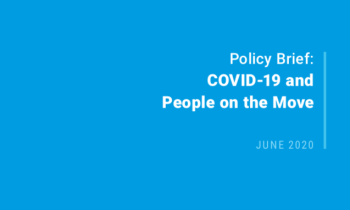 QUNO welcomes the launch of a Policy Brief from UN Secretary General, Antonio Guterres, focussing on the situation of people on the move during the Covid-19 pandemic. QUNO has worked for decades on protection of refugees and in recent years on the human rights of migrants, and we are deeply concerned by the severe and disproportionate impact of the pandemic on refugee and migrant communities of all kinds, including migrant workers, migrants in irregular situations, and those in immigration detention. We are particularly concerned that that 99 States have closed their borders to people seeking asylum during the pandemic, in contravention of their international obligations.
We echo the Secretary General's "four basic tenets to guide our collective response," especially emphasizing that "No-one will be safe until everyone is safe." We also welcome the clear statement that protecting the human rights of people on the move, and effective Covid-19 responses are not mutually exclusive. The pandemic is posing significant challenges for the human rights of refugees and migrants, but it also provides us with an opportunity to reimagine human mobility moving forward. We agree with the Secretary General that the Global Compact for Sage, Orderly and Regular Migration should guide States responses and actions in this regard.
The Secretary General's Policy Brief is just one of many resources published in recent weeks from the United Nations on this issue. Others include:
Related Files
Related Areas of Work