Human Rights of Migrants at HRC 43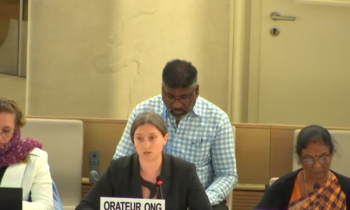 As part of its ongoing work on the human rights of migrants, QUNO delivered an oral statement to the Human Rights Council, urging the Council to take more focused and sustained action on the issue. Laurel Townhead, QUNO's Representative for Human Rights and Refugees, listed the names of three of the thousands of migrants who have lost their lives, drawing attention to the individual human beings behind migration statistics.
The statement reflected the High Commissioner for Human Rights' description of this situation as a 'lethal disregard', which is rooted in discrimination and perpetuated by impunity. Noting that the Human Rights Council has repeatedly been reminded of the violations taking place, but failed to take sufficient, decisive action, QUNO's statement provided some possible enhanced responses which could be taken to tackle this urgent situation.
The statement is available to read below, or to view online here at 01:29:08.
Related Files
Related Areas of Work