Landmark UN Human Rights Council resolution on the prevention of human rights violations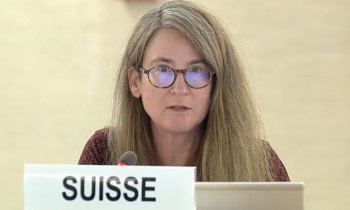 QUNO was pleased to have actively engaged in the informal negotiations of a landmark new UN Human Rights Council resolution on prevention. The resolution, led by a core group of Norway, Sierra Leone, Switzerland and Uruguay, was adopted by vote at the 45th session of the Council with 32 in favour, 11 abstentions and 3 against.
The resolution included significant elements that QUNO had supported and highlighted, including:
the need to strengthen the human rights pillar's own capacities to identify and prevent patterns of violations that risk tipping into destructive conflict

Operational Paragraph (OP) 4: a request to the Secretary-General to conduct a system-wide assessment of current levels of, and financing for, the delivery of technical assistance and capacity building;
OP5: a call on the OHCHR to strengthen its capacity to receive, manage and rapidly analyse early warning data and where such patterns are identified, for the High Commissioner to bring those situations to the urgent attention of Council members and observers; and

the need to ensure coherence and systematic working relations and methods between Geneva and New York entities – namely the Human Rights and Peace & Security Pillars to act promptly when faced with an evolving situation of human rights violations

OP8: a request to the Secretary-General to bring regularly to the attention of the relevant bodies of the United Nations reports of the Human Rights Council relevant to prevention; and
OP9: an invitation to the Chair of the Peacebuilding Commission (PBC), commencing in 2021, to brief, on an annual basis, the Human Rights Council.
Related Areas of Work