Global Peace Index Launch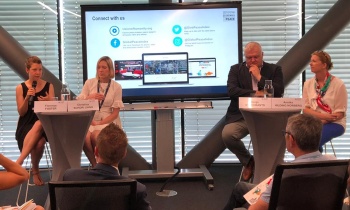 Florence Foster, QUNO's representative for Peace & Disarmament was invited to speak at the 2019 Global Peace Index (GPI) launch – an index created by the Institute for Economics and Peace (IEP) which ranks 163 countries according to levels of societal safety and security, militarization, and ongoing conflict.
Florence raised concerns over those very indicators that define peace in the GPI. While these are legitimate, they cannot be the all and end all of what peace is as that risks securitizing how we perceive and sustain peace – ignoring other critical benchmarks for collective social cohesion including with rights, equality and tolerance.
Indeed, there are complex interactions between many factors and processes that lead to destructive developments in society such as exclusion and discrimination, skewed economic development, ideological polarization, breakdown of communication, and specific factors that trigger the outbreak of violence. Identifying these underlying causes, or drivers, and how they interact with other factors in a specific context requires multiple perspectives within analysis, strategy development and complementary and mutually reinforcing implementation paths.
Florence therefore argued, that their Positive Peace Index (PPI) – in their 4th section of the publication - goes some way in the right direction by including measures on attitudes, institutions, structures that create and sustain peaceful societies, and crucially human rights. QUNO believes that human rights violations as both the root and consequences of destructive conflict play a crucial role in these complex interactions that sustain or undermine peace – notably in early warning, prevention of destructive conflict, and in providing the basis for accountability through to rebuilding peaceful societies.
A French language interview on Swiss radio about the event is available below, along with links to other QUNO work related to this topic.
Related Links
Related Areas of Work