QUNO hosts Geneva Peace Week event on the private sector's role in sustaining peace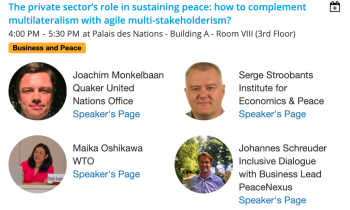 During Geneva Peace Week in November, the Sustainable & Just Economic Systems programme organized a side event on this topic and the role of the private sector in different aspects of conflict resolution and sustaining peace, which require the combined effort of many different groups, agencies and sectors. Currently, more than half of the 22 countries that are in the process of joining the World Trade Organization (WTO) are considered fragile conflict-affected States. They face specific challenges in building their economic foundation and integrating into the global economy. Some countries negotiating to join the WTO have used the process to overcome their fragile and conflictaffected situations by putting in place legal, economic and institutional frameworks based on WTO principles and rules.
Such frameworks could complement and consolidate their reconstruction and peacebuilding efforts. However, there is so far no systematic analysis of peacebuilding perspectives on WTO accession processes. We plan to host future meetings to explore ways in which trade can foster peace. Such a multi-stakeholder approach can help bring together the resources, knowledge, perspectives, skills and constituencies that can lead to the political will, collective capacities and sense of ownership needed to prevent conflict and sustain peace.
Related Areas of Work