What UN Development Reform means for Prevention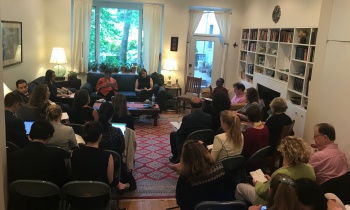 On 10 May, the Civil Society-UN Prevention Platform (the Platform) was pleased to convene a meeting on what the UN Development Reform means for the Secretary-General's Prevention agenda. Held days after the resolution concerning the proposed UN Development Reform was negotiated in the General Assembly, this event provided a timely opportunity for civil society and UN actors to constructively discuss the Development Reform. The objective of this meeting was to discuss the impact of the reform on the UN, its civil society partners and on the Secretary General's vision for prevention, and to provide a space for an open and constructive dialogue on how UN and civil society cooperation can support the UN's work on prevention.
Hosted at Quaker House, this event was the second in a series of discussions held by the Platform on the various UN reform streams. The Development Reform addresses the Secretary-General's proposals for the UN's development system to better deliver on the Sustainable Development Goals, with prevention as a cross-pillar priority. Subsequently, at the core of the recent resolution is system coherence and coordination at all levels; country, regionally and globally. 
While the Development Reform offers opportunities and challenges for the operationalization of prevention, the natural interlinkages of the peace and security, development and management reform streams remain important. The reform pushes for a more collected in country approach with more empowered Resident Coordinators and less regional duplication. 
By convening this meeting, the Platform informed civil society actors on the Development Reform process. QUNO looks forward to continuing its work co-facilitating the Civil Society-UN Prevention Platform and working with its core-partners and its larger networks of civil society experts to support the UN's prevention agenda though strengthening, coordinating and information sharing with the UN at all levels.
Related Areas of Work