Promoting Peacebuilding through the Universal Periodic Review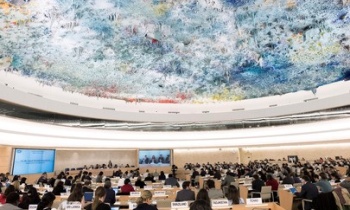 In February, QUNO New York and QUNO Geneva, in collaboration with UPR Info, hosted a series of discussions on the subject of "Promoting Peacebuilding through the Universal Periodic Review." These exchanges with the peacebuilding community in New York, come as a natural continuation of discussions in Geneva that aimed to raise awareness around the concept of sustaining peace and its relation to human rights. These discussions have been complemented by work with civil society actors from six case study countries undergoing their review under the Universal Periodic Review (UPR) process in 2017.
The overall desire was to support overcoming the fragmentation within the UN and to promote the value of integrated action between peacebuilding and human rights actors on the ground and in the UN system by using the UPR to explore present practice and untapped potential within a specific Human Rights Council process – as called for both by the twin General Assembly and Security Council resolutions on sustaining peace (2016) as well as the UN Secretary General report on Sustaining Peace (2018). 
QUNO Geneva spoke to some of these points in February during the 37th session of the Human Rights Council High Level Panel on Mainstreaming, which focused on the UPR. To view the webcast (QUNO speaks at 1h56m) – and download the full statement – please click here. 
The statement emphasized that the cost of continued fragmentation is too high and suggested the following actions to support the UPR in better contributing to peacebuilding and sustaining peace activities of the UN: 
• Inclusion of conflict analysis in the UN Compilation and Stakeholders Compilations as well as National Reports. 
• Use of information prepared in the reports as part of horizon scanning and early warning 
• Making and implementing recommendations that intentionally link technical assistance for the prevention of Human Rights violations that if left unaddressed may lead to escalating grievances or even conflict 
The learning and the recommendations from the discussions and the case studies are yet to be published.
Photo: UN Photo/Jean-Marc Ferre
Related Areas of Work