UN-AU Strategic Partnership and its implications for Prevention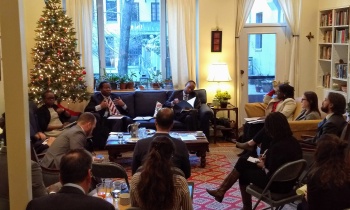 In April of 2017, UN Secretary-General, António Guterres, and Chairperson of the African Union (AU) Commission, Moussa Faki Maham, signed the Joint UN-AU Framework for Enhanced Partnership in Peace and Security. The partnership has since developed a shared understanding of the root causes of conflict, collaborated closely in preventive diplomacy and inclusive mediation efforts, protected human rights, and enhanced coordination and effective utilization of early warning systems to reduce the impact of disasters. 
This month, one day after the Chairperson of the AU and the Secretary-General of the UN signed a Joint Declaration renewing their commitment to strengthening the strategic partnership, the Civil Society-UN Prevention Platform, co-facilitated by QUNO, brought together representatives from the AU, the UN Department of Political Affairs (DPA) and the UN Peacebuilding Support Office (PBSO) for an informal, off the record meeting with civil society actors, member states and the broader UN community. The conversation provided an opportunity for participants to hear more about the UN-AU strategic partnership and its vision and approaches to conflict prevention, and for the UN, AU and civil society to collectively contribute to the UN's prevention agenda broadly.
The discussion saw speakers reflect upon examples of successful partnership between the two organizations, including in preventive mediation, support for transitioning governments and engagement of women and youth in peace processes. There was broad consensus among participants that the UN-AU partnership has seen remarkable progress since its formation in 2017 and serves as a demonstration that mutually beneficial relationships built on shared values and comparative advantages are central to the peace and security pillar of the UN. Avenues that were identified as opportunities to further strengthen the partnership included ongoing AU reform, increased collaboration with regional economic communities and enhanced monitoring of progress. All participants encouraged meaningful dialogue  with civil society in order to identify concrete avenues for strengthened civil society engagement with the partnership.
As co-facilitator of the Civil Society-UN Prevention Platform, QUNO looks forward to continuing the conversation on how best to think innovatively about prevention and to continue to support the UN on its work on this issue. 
Related Files
Related Areas of Work