QUNO at the Human Rights Council: a focus on children of parents facing the death penalty as victims of torture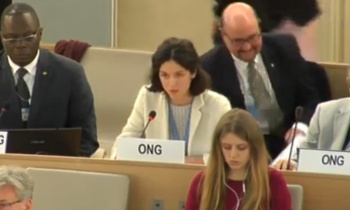 On 1st March 2017, the annual High Level Panel on the question of the death penalty was held at the 34th session of the Human Rights Council. This year's panel focussed on how the death penalty relates to torture.
During the panel, Nils Melzer, the UN Special Rapporteur on Torture and other Cruel, Inhuman or Degrading Treatment or Punishment highlighted the impact of the death penalty on children:
"The death penalty is… first of all, in my view, a question of life and how we define ourselves as human beings, as States and as an international community. Do we really want to retain a retributive system, deliberately inflicting pain and anguish on convicts, on their parents, on their spouses, on their children?... Or do we prefer to define ourselves on different terms, focusing not only on the inherent dignity of convicts, victims and families but also on the dignity and moral authority of our human society as a whole? "
In light of the panel's focus on torture, we submitted a written and oral statement at this session of the Council, highlighting that the sentencing to death or execution of a parent leads to a violation of the child's right to be free from cruel, inhuman and degrading treatment (CIDT) or torture under international law. 
The written statement can be found here.
The oral statement, delivered by Catherine Baker, Programme Assistant for Human Rights and Refugees at the High Level Panel, can be found at 2.09.45 on the video of the panel.
Related Areas of Work