New briefing for Friends on opportunities and challenges for the protection of refugees and migrants at the UN level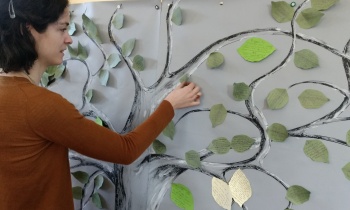 We are pleased to launch a new briefing paper for Friends: 'Protecting refugees and migrants under the New York Declaration: challenges and opportunities at the UN level.'
On September 19th 2016, the UN set a new agenda under the 'New York Declaration' for responding to large movements of people crossing borders. Our briefing aims to inform Friends about the Declaration and the developments it initiates for improving global governance on refugees and migrants. It also describes how QUNO is engaging in these opportunities, as well as ways that Quakers around the world can link up with, and benefit from, UN level initiatives.
This weekend, we are sharing this briefing at the Quaker Asylum and Refugee Network (QARN) conference on forced migration. The QARN conference, at Woodbrooke Study Centre in Birmingham, UK aims to connect Friends in the UK interested in responding to forced migration issues. Our briefing and our workshop at the conference aims to connect our UN work and the opportunities it presents to local initiatives amongst Quakers in the UK. 
Photo: contributing to the tree of current actions Friends are taking on refugee and migrant issues.
Related Files
Related Areas of Work